LUNCH – CURRENTLY SERVED WEDNESDAY TO SUNDAY 12:00 TO 14:30
-
DINNER – CURRENTLY SERVED WEDNESDAY TO SUNDAY 18:00 TO 20:45
NO MEAT
Deep Fried Cod with Tartare Sauce and Pease Pudding £20.50
Turbot Scotch Egg with Curried Onion and Moilee Sauce £16.50
Mussels Marinière with Warm Stout and Brown Bread £14.00
Roasted Cornish Sea Bass with Clams, Summer Vegetables and Smoked Butter Sauce £30.00
Rotisserie Beetroot with Melon, Burrata and Hazelnuts £13.50
Mushroom "Risotto" Claude Bosi £14.50
The Coach Caesar Salad £9.50
Red Pepper Soup with Rocket Pesto and Cheese Straw £13.50
Lemon & Herb Buttered Radishes £7.00
MEAT
Rotisserie of the Day:
30 Day Aged Dovecote Beef with Yorkshire Pudding and Horseradish Cream £30.00
-- --
Duck Liver Parfait with Fig & Cherry Chutney and Toasted Brioche £14.50
Blythburgh Loin of Pork with Cauliflower Cheese £28.00
The Coach Burger with Raclette, Pulled Pork and Dill Pickle £20.50
The Coach Chicken Kyiv with "Imam Bayildi" and Basil Emulsion £26.00
Wild Boar Lasagne with Crispy Parmesan, Bacon and Summer Truffle £24.00
Grilled Hispi Cabbage with Salad Cream and Crispy Pork £8.50
Roast Potatoes with Beef Fat Hollandaise £8.00
Sweet
Chocolate & Coconut Choux Bun with Pineapple Toffee Sauce £14.50
English Apricot & Almond Cobbler with Vanilla Ice Cream and Jersey Double Cream £14.50
Caramelised Honey Tart with Buttermilk & Lavender Sorbet £14.50
Vanilla Panna Cotta with British Strawberries, Honeycomb and Caramel Shortbread £14.50
Old Winchester Cheddar with Orange Chutney £14.50
SUPPORT SARAH
Our very own Head Chef is running the London Marathon this year to help raise money for Pancreatic Cancer UK. If you would like to donate speak to one of our team members.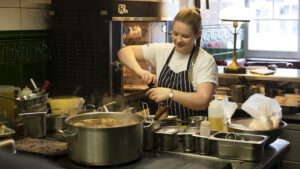 If you suffer from a food allergy, dietary requirement or intolerance, please inform a member of the Restaurant team prior to placing your order. Vegan options are available upon request. Service Included. We do not accept Amex.
* Please note, menus are liable to change.